A to Z Automotive & Tire
Company Name: A to Z Automotive & Tire
Contact President:
Trent Hight
Web site:
https://www.azautoandtire.com
SIC code:
553199
Industry group:
AUTOMOTIVE DEALERS & SERVICE STATIONS
,
Business category:
AUTO & HOME SUPPLY STORES
,
Subcategory:
OTHERS AUTOMOTIVE DEALERS & SERVICE STATIONS
Gross Annual Sales (Revenue):
Unavailable
Overall:
A to Z Automotive & Tire is a business categorized under auto & home supply stores, which is part of the larger category automotive dealers & service stations. A to Z Automotive & Tire is located at the address 2812 NW 10th St in Oklahoma City, Oklahoma 73107-5314. The President is Trent Hight who can be contacted at (405)946-1100.

Description:
Tires | Auto Repair | Oil Change Stations,
Working hours:
Mon: 08:00 am - 05:00 pm, Tue: 08:00 am - 05:00 pm, Wed: 08:00 am - 05:00 pm, Thu: 08:00 am - 05:00 pm, Fri: 08:00 am - 05:00 pm, Sat: 08:00 am - 12:00 pm, Sun: Closed
Tags:
Auto repair shop
Auto air conditioning service
Auto body shop
Auto dent removal service
Brake shop
Car repair and maintenance service
Oil change service
Tire shop
Wheel alignment service
In summary:
The staff is both professional, personable and honest with their work.
So my husband declined the service because it went from $80 to $100 to $290.18.
Prices are very affordable by far the cheapest then any other place .
Recommended:
Click here to Inform about a mistake
53
Rating:
Location & access map for "A to Z Automotive & Tire"
Photo from "A to Z Automotive & Tire"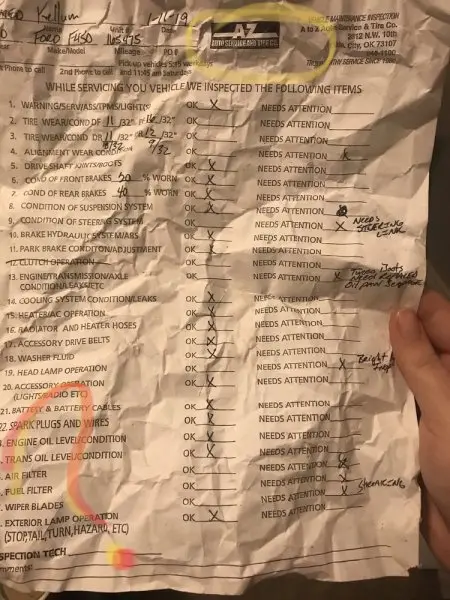 ---
A to Z Automotive & Tire (Automotive, Motorcycle, Boat Dealers)

about:
Review/Comment
Name: K.W.
Message: These guys were so professional and honest! I had some hail damage repair and not only did they get it done before they said they would they did an excellent job. Will never use anyone else!
Name: J.P.
Message: These guys rock. I dropped off an ATV tire (they have ALL the weird non-car tires) and said they'd have it done in one or two business days (as expected) but on my way home they said they'd found one in their inventory and by the time I got back it was ready. BUT! the cool part is that since I was there I asked if they could fix my leaky back tire and they did. For free! IDK why but that's pretty cool. I've used them for mower tires and all those kinds of things. They're great.
Name: K.H.
Message: Fastest and most professional service I've ever had. The whole team at A to Z is amazing. This is now the only auto repair business that I will ever use.
Name: G.C.
Message: We got hail damage on our 2017 Ford truck, which hail also busted the windshield and moonroof. JoEd's Customs in Yukon referred me to A to Z for pdr repair (paintless dent repair), as they said it shouldn't need body work. Kevin & Zach were so nice & helpful. I was unable to find a ride up there to drop the truck off, so Kevin came to me to pick it up. They repaired all the dents, and replaced all the glass in a timely manner. They even offered an Uber to pick me up to get it back when completed. You can't even tell where the dents were! They even called me the following week to make sure it was to my satisfaction. The service and honesty I received from both JoEd's Customs & A to Z Automotive were top notch and so appreciated! Will definitely use them again!
Name: M.R.P.
Message: Thank u folks for fixing our 2001 Oldsmobile Intrigue even though I've been trying to convince Dalton to trade both cars in but I'd had a accident with the Red 2003 Kia Spectra on Feb 22nd, 2023 & I'd wasn't trying to have accident with the Kia.